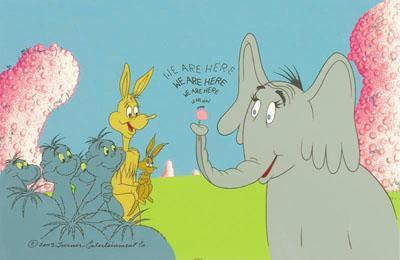 A person's a person no matter how small.
Dear Reader,
     This page was developed as part of my Winter 2013 course Culturally Relevant Materials for Diverse Learners.  I have curated children's books (including award winners in nine categories), professional articles or books, and other online resources.  I have chosen to work with the theme "activism and advocacy" for my project and while I tried to include a spread of age ranges in my materials, my main focus was on middle school.  Activism and advocacy are principles that I will want to nurture in my classroom no matter where I end up — I will always expect my students to stand up for what they think is right.  Many sources refer to "anti-racist" education, but my scope is greater than that and also looks at speaking out on issues of discrimination based on sexual orientation, gender identity, and disability status.
     Because I focused on upper elementary and middle school, I reflected on my own experiences at these ages while developing this survey.  What kind of a voice did I feel like I had at that time in my life?  The truth is I didn't feel like I had any voice at all; it didn't feel like anyone ever heard me.  In talking with peers since then, I know I am not alone in this experience.  Pre-teen and early teen years are such an uncomfortable stage for so many students.  They begin to realize they are no longer the young children they were in kindergarten or first grade, but they also aren't adults yet – they aren't even really teens.  My hope is that I can help students to find the voice within themselves that speaks what is right and what is true – even when it is not what is popular.
     The children's and YA (young adult) books I have selected can serve as either classroom read alouds or independent reads.  The resources I have chosen could also either be shown in class, used to guide my professional/personal development, or be something I ask students to watch before a class discussion or assignment.  I have selected these particular books and resources to develop critical thinking within students and myself and to guide classroom discussions.  These books and resources will help me to teach my students not only literacy, but humanity as well. 
     I hope you find many of these resources useful as well.  Use the drop-down menu above called "Activism in Literature" to explore the categories I have organized my resources under.
Sincerely,